Agenda
CAS MSc Midterm Presentations
Tuesday, 8 October 2019
10:30-11:00
HB 17.150
CAS MSc Midterm Presentations
Marnix Abrahams (mid)
---
CAS MSc Midterm Presentations
Tuesday, 16 July 2019
11:00-11:30
HB 17.150
Bas Otterloo van (mid)
---
PRORISC and SAFE 2019
Thursday, 4 -- Friday, 5 July 2019
Aula Conference Centre of TUDelft
PRORISC and SAFE 2019
PRORISC is an annual conference on Integrated Circuit (IC) design and SAFE is an annual conference on Microsystems, Materials, Technology and RF-devices. Both conferences are organized together within the three technical Dutch universities Twente, Delft and Eindhoven. The conference is organized by PhD students and is intended for PhD candidates to expand their network and share their research ideas, which provides a unique opportunity for future collaborations. Each year, one of the technical universities will be responsible for the organization of the two conferences. In 2019 the PRORISC will be held at at the campus of Delft University of Technology.
Additional information ...
---
CAS MSc Midterm Presentations
Tuesday, 2 July 2019
10:00-11:30
HB 17.150
Bishwadeep Das (mid), Rajwade Rajwade (mid), Sherine Brahma (mid)
---
Signal Processing Seminar
Thursday, 27 June 2019
13:30-14:30
HB 17.150
Biomedical Signal Processing
Miao Sun
Additional information ...
---
Microelectronics Colloquium
Tuesday, 25 June 2019
11:00-12:00
EWI-Lecture hall Chip
Quantum Computer on a Chip
Bogdan Staszewski
University College Dublin
Quantum computing is a new paradigm that exploits fundamental principles of quantum mechanics, such as superposition and entanglement, to tackle problems in mathematics, chemistry and material science that are well beyond the reach of supercomputers. Despite the intensive worldwide race to build a useful quantum computer, it is projected to take decades before reaching the state of useful quantum supremacy. The main challenge is that qubits operate at the atomic level, thus are extremely fragile, and difficult to control and read out. The current state-of-art implements a few dozen magnetic-spin based qubits in a highly specialized technology and cools them down to a few tens of millikelvin. The high cost of cryogenic cooling prevents its widespread use. A companion classical electronic controller, needed to control and read out the qubits, is mostly realized with room-temperature laboratory instrumentation. This makes it bulky and nearly impossible to scale up to the thousands or millions of qubits needed for practical quantum algorithms.
As part of our startup company, we propose a new quantum computer paradigm that exploits the wonderful scaling achievements of mainstream integrated circuits (IC) technology which underpins personal computers and mobile phones. Just like with a small IC chip, where a single nanometer-sized CMOS transistor can be reliably replicated millions of times to build a digital processor, we propose a new structure of a qubit realized as a CMOS-compatible charge-based quantum dot that can be reliably replicated thousands of times to construct a quantum processor. Combined with an on-chip CMOS controller, it will realize a useful quantum computer which can operate at a much higher temperature of 4 kelvin.
Additional information ...
---
MS3 seminar
Friday, 21 June 2019
14:00-16:30
EWI Van der Poelzaal
Diversity and nonlinear processing: trends for future radar systems
Prof. Dr. Stéphanie Bidon
Department of Electronics, Optronics and Signal at ISAE-SUPAERO, Université de Toulouse, France
Radar is an exciting field where systems are constantly evolving thanks to technical advances in several domains including RF, electronics and signal processing. Focusing on the latter, this talk illustrates two important trends that are contributing to the development of future radar systems, namely diversity and nonlinear techniques. On the one hand, diversity brings redundant information about the radar scene thereby enabling target discrimination in a given space. On the other hand, nonlinear techniques produce outputs that are not linearly related to the input signals thereby enabling relevant processing in complex scenarios. Benefits of combining both diversity and nonlinear algorithms will be presented in two radar applications: 1) to estimate range migrating targets in blind velocities with a wideband waveform 2) to estimate targets hidden in the pedestal inherent to a multicarrier waveform.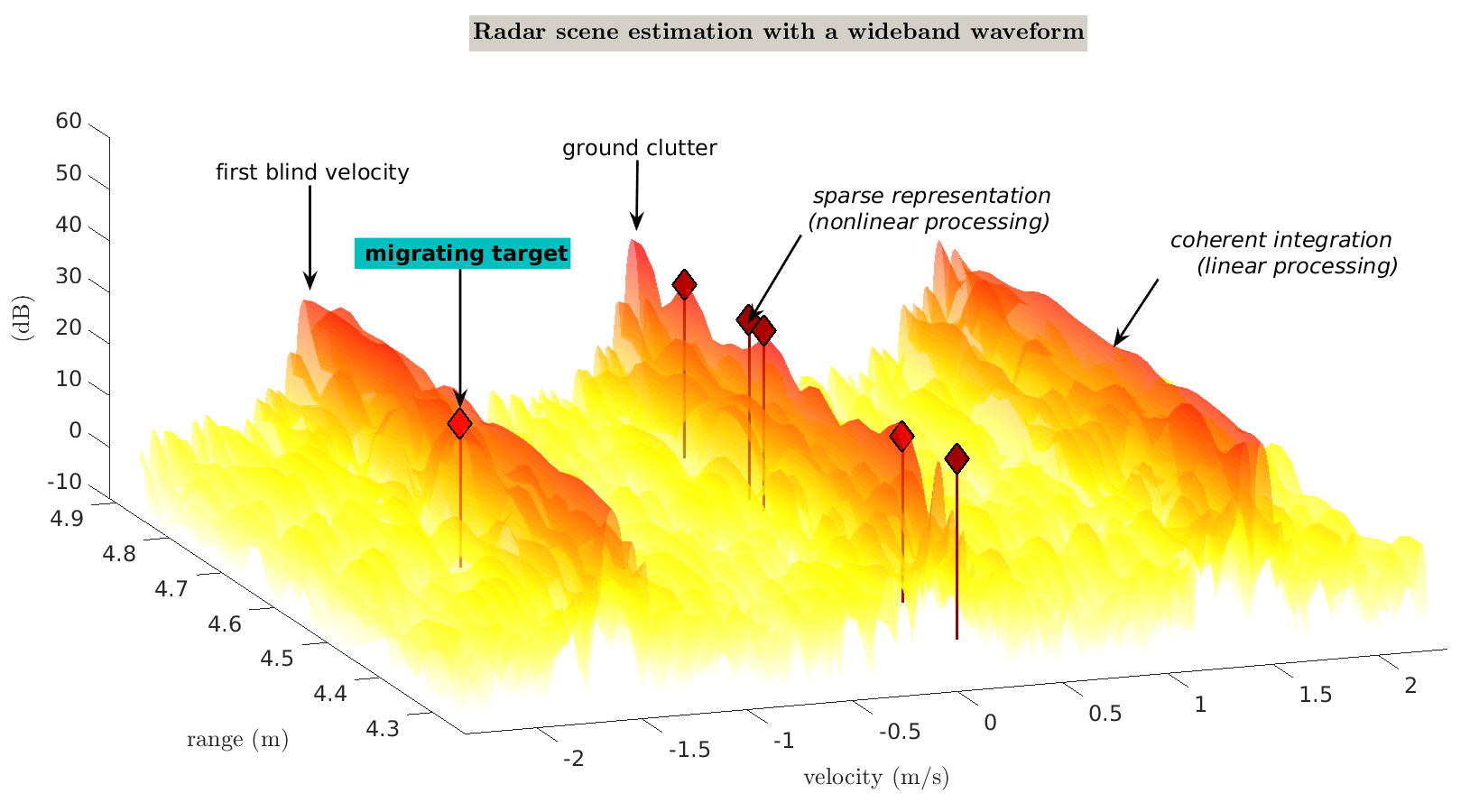 Short bio
Stéphanie Bidon received the engineer degree in aeronautics and the master degree in signal processing from ENSICA, Toulouse, in 2004 and 2005 respectively. She obtained the Ph.D. degree and the Habilitation à Diriger des Recherches in signal processing from INP, Toulouse, in 2008 and 2015 respectively.
She is currently with the Department of Electronics, Optronics and Signal at ISAE-SUPAERO, Université de Toulouse, France, as a professor.
Her research interests include digital signal processing particularly with application to radar systems (STAP, wideband radar detection, RadCom) and GNSS (robust phase tracking).
---
MS3 seminar
Friday, 21 June 2019
14:00-16:30
EWI Van der Poelzaal
Misspecification, Robustness and Cognition in Radar Signal Processing: Some Results
Prof. Dr. Maria Sabrina Greco
Dept. of Information Engineering of the University of Pisa
After a brief survey of the activities of the Radar Signal Processing Group of the Dept. of Information Engineering, University of Pisa, the talk will focus on some of the recent and on-going research topics in which Prof. Greco is involved.
Any scientific experiment which aims to gain some knowledge about a real-word phenomenon, in radar systems as in other applications, starts with the data collection. In statistical signal processing, all the available knowledge about a physical phenomenon of interest is summarized in the probability density function (pdf) of the collected observations. In practice, the pdf or/and its characteristic parameters are partly or fully unknown, then any inference procedure starts with its estimation. The easy case is when the hypothesized statistical model and the true one are the same, so they are matched. However, a certain amount of mismatch is often inevitable in practice. The reasons for a model misspecification can be various: it may be due to an imperfect knowledge of the true data model or to the need to fulfill some operative constraints on the estimation algorithm (processing time, simple hardware implementation, and so on).
The first part of the talk aims at providing a short overview on the misspecified estimation framework with a particular focus on the Misspecified Cramér-Rao bound (MCRB). Then a possible approach to minimize the misspecification risk is presented. Specifically, a more general semiparametric characterization of the statistical behavior of the collected data is addressed and some application to the radar scenario is shown.
The talk will then continue with a short introduction to the concept of cognition applied to passive and active radars highlighting the limits and the path forward and will describe some new results regarding the application of some machine learning techniques to "cognitive" MIMO radar.
Short Bio
Maria Sabrina Greco graduated in Electronic Engineering in 1993 and received the Ph.D. degree in Telecommunication Engineering in 1998, from University of Pisa, Italy. From December 1997 to May 1998 she joined the Georgia Tech Research Institute, Atlanta, USA as a visiting research scholar where she carried on research activity in the field of radar detection in non-Gaussian background.
In 1993 she joined the Dept. of Information Engineering of the University of Pisa, where she is Full Professor since 2017. She's IEEE fellow since Jan. 2011 and she was co-recipient of the 2001 and 2012 IEEE Aerospace and Electronic Systems Society's Barry Carlton Awards for Best Paper and recipient of the 2008 Fred Nathanson Young Engineer of the Year award for contributions to signal processing, estimation, and detection theory. In May-June 2015 and in January-February 2018 she visited as invited Professor the Université Paris-Sud, CentraleSupélec, Paris, France.
She has been general-chair, technical program chair and organizing committee member of many international conferences over the last 10 years. She has been guest editor of the special issue on "Machine Learning for Cognition in Radio Communications and Radar" of the IEEE Journal on Special Topics of Signal Processing, lead guest editor of the special issue on "Advanced Signal Processing for Radar Applications" of the IEEE Journal on Special Topics of Signal Processing, December 2015, guest co-editor of the special issue of the Journal of the IEEE Signal Processing Society on Special Topics in Signal Processing on "Adaptive Waveform Design for Agile Sensing and Communication," published in June 2007 and lead guest editor of the special issue of International Journal of Navigation and Observation on" Modelling and Processing of Radar Signals for Earth Observation published in August 2008. She's Associate Editor of IET Proceedings – Sonar, Radar and Navigation, member of the Editorial Board of the Springer Journal of Advances in Signal Processing (JASP), and Senior area chair of the IEEE Transactions on Signal Processing. She's member of the IEEE AESS Board of Governors and has been member of the IEEE SPS BoG (2015-17) and Chair of the IEEE AESS Radar Panel (2015-16). She has been as well SPS Distinguished Lecturer for the years 2014-2015, and now she's AESS Distinguished Lecturer for the years 2015-2019, and AESS VP Publications.
Her general interests are in the areas of statistical signal processing, estimation and detection theory. In particular, her research interests include clutter models, coherent and incoherent detection in non-Gaussian clutter, CFAR techniques, radar waveform diversity and bistatic/mustistatic active and passive radars, cognitive radars. She co-authored many book chapters and more than 190 journal and conference papers.
---
Signal Processing Seminar
Thursday, 20 June 2019
13:30-14:30
HB 17.150
Low-complexity 1-bit A/D conversion
Manuel Stein
Additional information ...
---
Signal Processing Seminar
Thursday, 20 June 2019
14:15-15:00
HB 17.150
Deep learning in ultrasound imaging
Ruud van Sloun
TU Eindhoven
This talk will elaborate on deep learning strategies in ultrasound systems, from the front-end to advanced applications, thereby discussing the possible impact of deep learning methodologies on many aspects of ultrasound imaging. In particular, it will outline methods that lie at the interface of signal acquisition and machine learning, exploiting both data structure (e.g. sparsity in some domain) and data dimensionality (big data) already at the raw radio-frequency channel stage. Several illustrative examples will be given, covering efficient and effective deep learning solutions for adaptive beamforming and adaptive spectral Doppler through artificial agents, learning of compressive encodings for color Doppler, and a framework for structured signal recovery by learning fast approximations of iterative minimization problems, with applications to clutter suppression and super-resolution ultrasound. These emerging technologies may have a considerable impact on ultrasound imaging, showing promise across key components in the receive processing chain.
Additional information ...
---
MSc CE Thesis Presentation
Wednesday, 19 June 2019
13:30-14:15
HB 17.150
A Real-time Low Latency Signal Concentrator for Ship Tracking using AIS
Ramkoemar Bhoera
Global AIS coverage is not possible with terrestrial AIS as base stations are required to be build on sea, which is impractical. With the use of LEO satellites, the field of view of a single receiver is increased and is capable of communicating with many AIS cells simultaneously. As many vessels are transmitting data to the same receiver, message collisions occur which results in data loss.
In order to increase the performance of the AIS receiver, blind beamforming techniques are used. This makes it possible to separate multiple collided messages. This solution is build in a hardware receiver which returns analog signals.
The goal of this thesis is to build a low latency data acquisition system, in order to process the signals from the hardware receiver. This system requires a processing board to send the samples over to the single user receiver, which is build in software.
The Raspberry Pi is used as the processing board, but as it was unable to do the realtime work, a microcontroller is added for this specific task. Fetching data from the ADC is realized through the popular Industrial IO subsystem which allows easy integration with other IIO compliant software and is used to transfer sample data over the network to the software receiver. The software receiver decodes the AIS data and sends it to chart plotter applications which can be used to plot data on a map.
Additional information ...
---
CAS MSc Midterm Presentations
Tuesday, 18 June 2019
10:30-10:45
HB 17.150
CAS MSc Midterm Presentations
Marnix Abrahams (1st)
---
Signal Processing Seminar
Thursday, 13 June 2019
13:30-14:30
HB 17.150
Task-cognizant sparse sensing for inference (ASPIRE)
Pim van der Meulen
Additional information ...
---
Signal Processing Seminar
Thursday, 6 June 2019
13:30-14:30
HB 17.150
Acoustic signal processing
Jamal Amini
Additional information ...
---
Signal Processing Seminar
Thursday, 30 May 2019
13:30-14:30
HB 17.150
Biomedical signal processing
Bahareh Abdikivanani
Additional information ...
---
Signal Processing Seminar
Wednesday, 29 May 2019
10:00-10:45
HB 17.150
Acoustic localization
Michał Machnicki
Microflown
Additional information ...
---
Signal Processing Seminar
Friday, 24 May 2019
14:30-15:30
HB 17.150
Adaptive classification of radar emitters
Aybuke Erol
METU, Turkey
Radar receivers collect interleaved signals from all electromagnetic sources in the environment. The ultimate goal of electronic intelligence is to separate these sources (deinterleaving) and find their types (emitter identification). Knowing the type of a source, it is possible to comment on its mission and operation. All in all, deinterleaving and emitter identification together build a system that solves an adaptive classification problem. One of the biggest challenges in this problem is that the system does not know all emitter types in the world since a great part of this information is confidential within each country. In addition, radar receivers sequentially provide radar pulses to the system. Therefore, the classifier should be able to increase its number of classes whenever an unfamiliar emitter type is encountered. What's more, it should be able to distinguish between the unfamiliar emitter types, which enforces online learning.
The proposed system solves deinterleaving using fuzzy ARTMAP due to several reasons. First, it is supervised which makes the system able to start with a priori information or data. Secondly, it works with sequential input and enables online learning. Last but not least, it can increase its number of classes. After fuzzy ARTMAP, radar clusters are formed. Next, a representation for each cluster should be found, to be compared with the representations of already known emitter types. The challenge here is that describing an emitter type by single numeric values would not be fair as radar features are generally interval based. For example, emitters today do not operate on a single frequency, they rather have a frequency range in which they can operate. Hence, the representation and comparison of emitter types and radar clusters are considered under symbolic data analysis. Both parts, solved with fuzzy ARTMAP and symbolic data analysis, are improved in terms of classification accuracy from their baseline methods with the use of Jaccard index.
---
MSc SS Thesis Presentation
Tuesday, 21 May 2019
10:00-10:45
HB 17.150
Detecting Electrode Array Tip Fold-over in Cochlear Implantation
Juriaan van der Graaf
In cochlear implantation surgery, the appropriate placement of the electrode array into the cochlea is vital. Suboptimal placement of the electrode array may lead to reduced hearing performance and speech recognition after the surgery. Currently, there are methods to confirm the electrode position post-operatively (e.g. through a CT scan), but it is not possible to monitor the insertion intra-operatively. This, combined with the fact that there is difference in surgical precision and insertion technique between surgeons, leads to great variability in electrode placement and in some cases to electrode malpositioning issues. One of the more problematic issues that may arise is folding of the electrode tip. Folding of the tip causes the electrode array to not reach deep enough into the cochlea, and it is likely to cause trauma due to the increased pressure on cochlear walls and membranes. On top of that, you effectively have "less" contacts to work with because contacts can be positioned very close to eachother due to the folding. Folding of the electrode array also disrupts the tonotopic organization of the cochlear implant (the contacts near the end of the array no longer correspond to the lowest frequencies). The effectivity of the treatment is thus reduced in patients with tip fold-overs. However, many modern day cochlear implants possess telemetry features. These are primarily used to check the implant's proper functioning, but may also be helpful in monitoring the insertion of the electrode array. The telemetry features of a cochlear implant make it possible to measure the intracochlear electrical potential. The measured current spread is related to the electrode array's shape and position, and thus may provide a way to detect folding of the tip. This can be done post-operatively, but can possibly also be done intra-operatively to monitor the insertion in real time. This application could be a useful tool to aid surgeons and clinicians. When used post-operatively, it may provide a cost-free method to detect tip fold-over. When used intra-operatively, it may provide a way to detect and prevent both fold-over and trauma to the cochlea.
Additional information ...